To add a favourite, simply click the
when viewing our homes
Curious about the building process? Here's what to expect as we turn your ideas and plans into your dream home or investment property.
Phase 1: Pre-construction
Getting plans and paperwork signed and sorted before construction starts means your build is more likely to happen on time, and that everything will be just as you'd imagined. Construction will only begin when you're happy with the plan and have signed the paperwork, and once approvals have been finalised.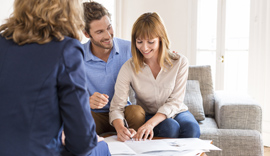 1. Signing the contract and putting down your deposit
Once you've decided on a home design that's right for you, your Statesman consultant will take you through the paperwork so you can sign contracts and other documentation and organise your home deposit. Get excited, take a deep breath and sign on the dotted line ... it's really happening!
2. Getting the master plans, construction footing report and council approvals
While your master plans are being put together, Statesman's consulting engineers will be working hard in the background to start gathering information needed for your construction footing report. This report will be what guides the construction team in getting the land and foundations prepped for the construction phase.
Once the master plans are drawn up and received, allow around three weeks for the engineer to finalise the construction footing report based on the master plans.
Our team will lodge your application to Council and other relevant authorities to obtain all the approvals needed for your home (like septic approval and encumbrance approval).
This is also around the time when the team will begin costing your site works and footings.
3. Finalising finishes
When you've received your master plans, book in with one of our Statesman Design Consultants to go through the options for the smaller (but no less important!) details for your home.
4. Getting approvals and ownership documentation sorted
At this stage, we'll need you to supply formal financial approval from your lender, as well as formal proof of land ownership.
Your pre-approval is useful in working out your budget early on, but applying for and obtaining formal financial approval from your lender should be done after you have finalised all the costings – site works, footings and the finishes you've chosen.
To prove land ownership, you'll need to submit a letter of settlement or a land title showing the property address with you as owner.
Around this time, Statesman will also receive approvals from the council and associated authorities.
5. Signing off and getting the tick of approval to begin building
Nearly there! Once master plans, site plans and finishes are finalised and you're happy with what's been prepared, the Statesman team will run a final check over your contract documents, prepare construction files and place orders for building materials.
If all is in order, the paperwork is checked off and signed, and Statesman will provide you with an 'OK to Start' date, giving your building team the go-ahead to begin construction!
Phase 2: Construction
With Statesman, construction is handled by the best tradespeople available and is overseen by a dedicated Site Supervisor and a Construction Manager. They'll make sure construction is carried out according to the highest quality assurance guidelines.
You'll see your home built from the ground up in five stages.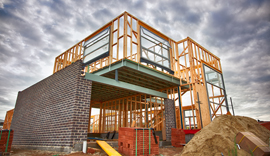 1 Footings
A concrete slab is laid, ready to be built on.
2. Frame
Wall frames and roof trusses take shape as our team of carpenters get to work.
3. Brickwork
Often referred to as the 'lockup' phase, this is when brickwork, roof tiles, external doors and windows are added and your home is able to be locked up.
4. Fixing
Your house is looking more like a home every day now! The building team will add interior and exterior details, including kitchen and bathroom cabinets, and exterior finishes.
5. Finishing up and handing over the keys
You can get your moving boxes organised while we add all the finishing touches like painting, tiling and shower screens.
Once construction is finished and everything is in place according to plans, you can walk through your new home with your Site Supervisor, who'll take note of any of your final questions or concerns.
Providing everything is as it should be, we'll arrange the handover so you can get the keys and settle in!
Warranty
So, we cover you with a 3 month maintenance program. If you have any concerns during the first few months after handover, just submit a maintenance report at the 3 month mark and we'll take care of things for you.

Contact us online or call 1300 724 663 to have your questions answered by one of our experienced consultants.
Sign up for our news letter and get the latest news, special offers and industry tips