To add a favourite, simply click the
when viewing our homes
Receive professional mortgage broking advice
As part of our comprehensive home building services at Statesman, we've teamed up with KeyStart Finance, who can give you professional mortgage broking advice and a lending experience that you'll be talking about for all the right reasons.
With a 96% approval rate*, the team at KeyStart has a proven history of getting customers the best home loans possible and saving homebuyers thousands over the life of their loans.
Your KeyStart mortgage broker will have priority access to over 40 of Australia's leading lenders, so you'll get VIP service. That means the fastest service, the best rates and exclusive loan products that will likely save you thousands on your loan.
Backed by years of experience and construction finance knowhow, the KeyStart team recognises that every financing journey is unique, so they'll take the time to work out exactly where you're starting from and steer you in the right direction. They'll ask the right questions, do the research, find you the best loan options, and then step you through the finer details to make sure you feel confident in deciding on a loan that works for you.
It doesn't cost a cent to ask questions, so why not book in a free, no obligation consultation to see how you can get started and save on your loan. Find out more from the KeyStart Finance website, call 1300 739 699, or email loans@keystartfinance.com.au.
 *Approval rate calculated on preapproved loans versus declined loans. As at 1 November 2016. Subject to change.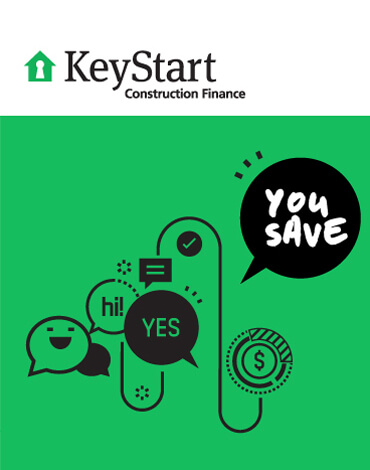 Contact us online or call 1300 724 663 to have your questions answered by one of our experienced consultants.
Sign up for our news letter and get the latest news, special offers and industry tips