To add a favourite, simply click the
when viewing our homes
Investment opportunities are ripe for the picking in today's housing market, so it pays to do your homework on what's available. What you choose will depend on your unique financial circumstances and your long-term investment goals. We can give you expert advice and help you find the right fit for you.
House and land packages
Investing in a house and land package means you'll save time and money by bypassing the process of finding a house design and a block of land separately. Generally, these homes are fast to build, so your tenants can move in sooner, and you can start earning a return on your investment. And because we build across South Australia in prime development areas, your Statesman Homes property is likely to attract higher rental returns than it might in older areas.
Whether you're a first-time investor or property portfolio owner, we have packages to suit your needs.
Explore the full range of house and land packages.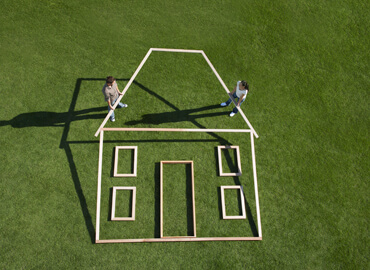 Subdivisions
Subdividing land to make room for multiple properties is an investment opportunity that smart investors are leaping on. As housing shortages and a tight rental market make investment opportunities harder to come by, subdividing is becoming increasingly popular. If you already own land, it makes sense to get more out of it, right?
Your subdivision options
You might choose to divide a large block with your pre-existing home on it to unlock the equity in your land, or, if you have a site in mind that can be developed, pre-existing properties can be demolished to make way for multiple dwellings.
Think about the possibilities ... You could build two new homes, live in one and make some extra income on the side by leasing or selling the other. Or maybe you could sell your allotments or newly built houses through us as house and land packages – we take care of the sales and you profit.
Knockdown Rebuilds
If your land is a veritable goldmine waiting to be developed, consider a knockdown rebuild. Demolish an existing property to make way for a brand new investment property that will yield more income and less ongoing maintenance.
Whether you've bought a property to demolish and rebuild, or whether you're knocking down your home and subdividing to make use of spare land, we can help you plan carefully so that you can make a return on your newly built investment property sooner.
Find out more about how we can help you to knockdown and rebuild.
New Homes
Build the way you want in an area you choose, and add value to your new home on your terms. While investing in an older home can seem like a romantic renovation dream, it's not always the most sound investment – the value that was initially built into the home has probably been reduced by previous owners and tenants. In comparison, building a new home in a prime development area will generally yield a higher return on your investment, and save you time and money with much less ongoing maintenance and no renovation surprises.
We have house and land packages for easy investing, or browse our full range of designs.
Display Homes
Every so often, we make our display homes available to buy. This is a rare blue-chip opportunity for investors to cash in on an architecturally designed, fully furnished, landscaped, complete home with guaranteed earnings built in. What you see is what you get, with no nasty surprises!

Contact us online or call 1300 724 663 to have your questions answered by one of our experience consultants.
Sign up for our news letter and get the latest news, special offers and industry tips